Teridion

 Cross Border Connection 

For

 China
Accrets International enables enterprises to get high-performance connectivity to and from their sites in Mainland China. Customers can expect lightning-fast file transfers, pristine voice and video sessions, and MPLS-level performance, without the expense of costly carrier circuits or deploying an MPLS network. 
Our partnership with Teridion provides Chinese enterprises with SD-WAN-as-a-Service connectivity that is compliant with China's MIIT/CDTIA regulations. Teridion's Network-as-a-Service fuses proven WAN acceleration techniques with real-time, metric-driven route optimization, which nearly eliminates slow connections and latency issues.  
Through Teridion's service, Accrets International connects your WAN edge to our cloud-based WAN services. Using deep learning capabilities, the network orchestrates the best route for maximum acceleration, minimal packet delivery latency, and packet loss mitigation, providing enterprises with the full benefits of SD-WAN technology.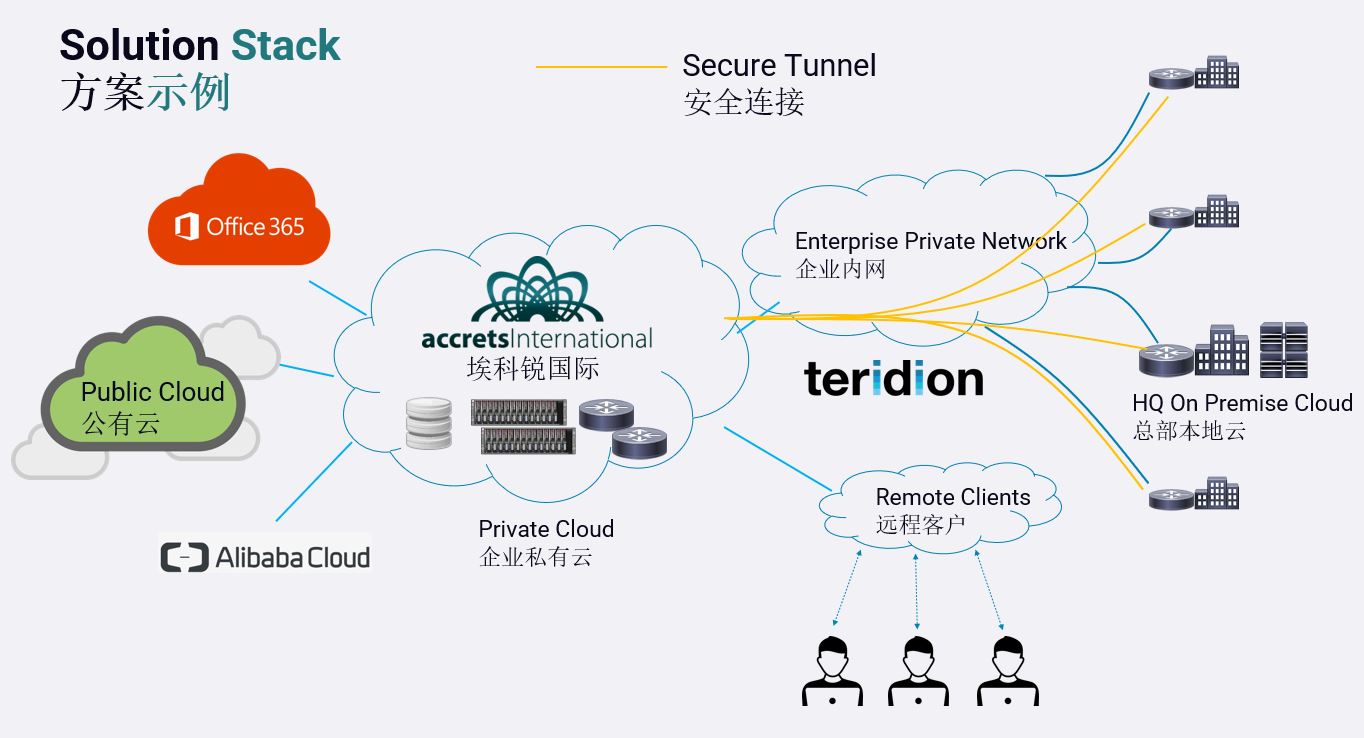 You'll Enjoy:
High-quality

 voice and video – 

Lowest possible latency, packet loss, and jitter metrics for video, voice, and RDP/VDI

 

High Speeds –

 

Up to 

52X throughout over regular public internet, zero-packet loss, 4+ MOS score for voice and video calls

 

Simple IPSec connectivity

 – Uses standard broadband without any additional hardware, software, or circuit requirements, connecting from the site's WAN CPE to the Teridion network

 

Carrier-Grade SLA

 – Consistent, operational Internet performance comparable to MPLS

 

Fully compliant

 – with China's regulations

 

Fast Deployment 

–

 

Configures

 

in minutes, deploys to China sites within hours 

 
Network Features:
Full integration

 – Work with all leading WAN, SD-WAN, and security edge solutions 

 

Global Cloud Network 

– Over 500 PoPs on more than 25 public cloud providers including AWS, Microsoft Azure, Google Cloud Platform, IBM Softlayer, and Digital Ocean

 

Open Platform – 

Configure via API and integrate to bigger dashboards

 
Ready to Start ?
Get Your Free Demo Now!
Ready to Start ?
Get Your Free Demo Now!